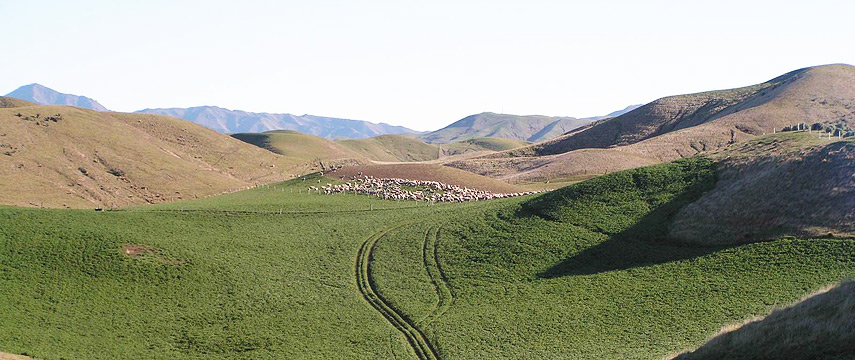 Lucerne is a perennial legume species with an extended taproot that allows the plant access to water and nutrients deep in the soil profile and which gives it superior drought tolerance in comparison to grass pastures in lower rainfall areas.
Lucerne is a multi-purpose plant that can either be grazed or conserved as hay/silage for use during times of the year when pasture quality or diet protein levels are low. Lucerne has excellent stock acceptance and produces impressive yields of high quality feed.


What do you want to use your Lucerne for?
Lucerne cultivars are selected by their dormancy ratings (these are shown as numbers: 1-10) so your choice of cultivar will depend on whether you are after a winter active, semi-winter active or winter dormant lucerne (Under this system "1" is the most winter dormant and "10" is the most winter active).


Cultivars:
SuperSonic Alfalfa (rating 9): SuperSonic is a New Product that is highly winter active with strong autumn and spring growth. For more information please click here.
Icon Alfalfa (rating 6): Icon is a New Product that is semi winter active that was selected for its improved disease and pest resistance. Icon is a very good dual purpose hay, silage and grazing cultivar because of its high resistance to grazing. For more information please click here.
Other Cultivars: Other cultivars we sell include: Stamina 5, Force 4, Force 7, Kaituna, Pioneer 54V09, Torlesse, Wairau and WL 363HQ.


Lucerne Inoculant:
Lucerne seed should always be inoculated with Group AL lucerne inoculant prior to planting. Superstrike Coated Lucerne comes pre-innoculated. Bare seed requires separate inoculant to be purchased.

Please contact Specialty Seeds for all your Lucerne needs.
If you would like some more information on How to grow Lucerne and or on Lucerne Management please click here to go to our downloads page.